In the evening of September 24, the opening ceremony of 2017 DFM·WUHAN OPEN was held in Optics Valley International Tennis Center. 2017 WUHAN OPEN has attracted many top p s of Women's Tennis Association (WTA), such as Petra Kvitova (defending champion), Garbine Muguruza (first place in the world in women's singles), Simona Halep (second place in the world), etc., guests from all sectors of society and fans. Since the inception of 2014 1st WUHAN OPEN, DongFeng Motor Corporation (DFM) has been its exclusive sponsor in four consecutive years. He Wei . also attended the opening ceremony, and acted as the guest to select the playing field for p s in the subsequent official competition.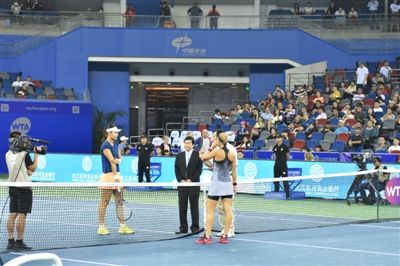 The opening ceremony was kicked off in the wonderful laser show themed with Colorful Wuhan. The Charming WUHAN OPEN, with the help of the application of modern technology elements and the performers' wonderful performance, converted the central tennis courts into a show field of tennis sports, which showed the beauty of Chu culture and charm and vigor of Wuhan Tennis sports to the world, and brought fans a wonderful audio-video feast. After that, Li Na global promotion ambassador of WUHAN OPEN and guests such as Kuznetsova lightened the venue model, and a phoenix with profound Chu culture charm displayed through high-tech projection means flew over the roof of venue which brought the opening ceremony to a climax.
After the end of the opening ceremony, WUHAN OPEN started the official competition. A Chinese p Duan Yingying firstly stood out to fight against the Russian famous p Elena Vesnina.
WUHAN OPEN is one of China's highest level of tennis tournaments following CHINA OPEN and Shanghai Masters, which has been held in September in Wuhan since 2014. Over the four years, as an exclusive sponsor of WUHAN OPEN, DFM, together with global fans, has witnessed growth and wonderfulness of WUHAN OPEN. To serve WUHAN OPEN in the vehicle reception, DFM has provided nearly 100 vehicles, such as passenger vehicles, sedans, commercial vehicles and electric vehicles. Being the exclusive sponsor of WUHAN OPEN for four times, DFM advanced the tennis undertaking with its actions, and injected more dynamic and passion into this sports event.